Site Map
Feedback
Contact Us
Thanks for generous support from Farm Credit.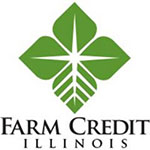 Haga clic aquí para ver la versión española de esta página.
Growing a New Generation of Illinois Fruit and Vegetable Farmers
Later this year all the materials we developed for this program will be made publically available on our website: http://newillinoisfarmers.org/. Sometime later this fall we should know what (if any) programs in Illinois received grants and we will post that information as it is available.
Illinois non-profits that run ongoing farmer training programs include: Angelic Organics in Boone County http://www.learngrowconnect.org/farmer and The Land Connection http://thelandconnection.org/ . Cornell University has a range of quality online courses http://www.nebeginningfarmers.org/online-courses/. You might also check with your local community college. In many cases our local foods educators could work with them to put an abbreviated curriculum in place. Should they have any questions please contact us for assistance.
Other programs of interest to small farmers are posted on the Illinois SARE calendar at http://illinoissare.org/calendar.php and on a website maintained by U of I Extension's Local Food Systems and Small Farms educators at http://web.extension.illinois.edu/smallfarm/.
For social media updates, please keep an eye on our sites: https://www.facebook.com/NewIllinoisFarmers / https://www.facebook.com/ILSARE / and https://twitter.com/IllinoisSARE
Another resource that is available at no cost is the Illinois Fruit and Vegetable News newsletter. It is available at http://ipm.illinois.edu/ifvn/. A link to the current issue is always provided at the top of the home page, and archived copies are available on the drop-down menu also near the top of the page. You can sign up for this newsletter sending an email to mhosier@illinois.edu
Programs were offered in southern, central, and northern Illinois
Classes ran one Saturday a month from 9:00 am – 4:00 pm from December to November. Potential participants applied to one of three locations
(1) the University of Illinois Dixon Springs Agricultural Center in southern IL near Simpson
(2) the campus at the University of Illinois in Urbana
(3) at the Kane County Extension Office in St. Charles (in conjunction with the University of Illinois Horticulture Research Center nearby)
Schedule
Year 1:     December, 2012 – November 2013
Year 2:     December, 2013 – November 2014
Year 3:     December, 2014 – November 2015
Instruction included …
land acquisition and transfer
business planning
legal issues
insurance
marketing
farm safety
food safety
Farm to School
equipment operation & safety
transplant production
high tunnel construction and operation
irrigation
soils and soil testing
cover crops and tillage
variety evaluations
pest and disease scouting
integrated pest management
pesticide application
pruning and thinning
harvest practices
postharvest handling
conventional and organic production methods
visits to established produce farms
discussions with experienced farmers
access to incubator plots
Read about some of the students from year one.
Press release
Questions?  Contact:   Dr. Richard Weinzierl weinzier@illinois.edu   217-244-2126 or
Mary Hosier mhosier@illinois.edu    217-333-7512
This project is supported by the Beginning Farmer and Rancher Development Program of the National Institute of Food and Agriculture, USDA, Grant # 2012-49400-19565.