Contact Us
Thanks for generous support from Farm Credit.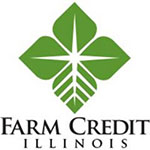 Jeff Kindhart
January 18, 1965 – February 8, 2016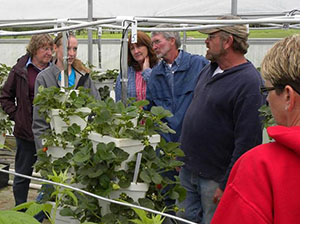 On February 8, 2016, Jeff Kindhart, Senior Research Specialist at the University of Illinois Dixon Springs Agricultural Center (DSAC), died peacefully at his home under hospice care.  An aggressive cancer reached the membranes of his brain several days earlier, and it was inoperable and untreatable.  Jeff gave generously and tirelessly in his teaching and advising efforts to improve the lives of countless growers throughout Illinois and elsewhere.  He will be missed tremendously as a friend, a colleague, and a mentor to many.
An educational fund for Jeff's children has been established at Bailey Funeral Home in Vienna, Illinois.  To contribute, contact the funeral home at Bailey Funeral Home, 705 North First Street PO Box 695, Vienna, IL, 62995 (email baileyfhinc@hotmail.com; http://baileyfh.com).  Jeff's obituary is available on the funeral home website, and the following paragraphs tell at least some of the valuable professional story that's not in the obituary.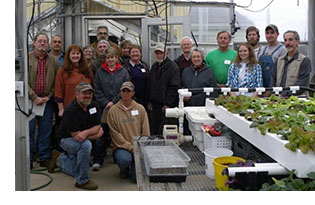 The horticulture program at DSAC was established in 1960, with Dr. J.W. (Bill) Courter as its leader.  After receiving a Master's Degree in Horticulture at the University of Illinois, Jeff started at DSAC as a horticulturist in 1990, initially under the mentorship of Dr. Courter and then as an independent Research Specialist after Dr. Courter retired in 1992.  His work initially expanded on many of the research and Extension efforts that Dr. Courter initiated; later Jeff took on many new and innovative projects.  Jeff was among the first scientists in the Midwest to research and promote strawberry plasticulture, having established research plots at DSAC in 1992.  Largely as a result of his work, plasticulture production of strawberries (using raised beds, plastic mulch, winter row covers, and an annual production cycle) has been widely adopted by progressive growers in the southern third of Illinois where the climate allows success and profitability.  His evaluations of existing and new varieties of tomatoes, peppers, asparagus, blueberries, blackberries, and other specialty crops produced recommendations widely used by southern Illinois growers.  He collaborated with University of Illinois faculty in horticulture, entomology, and plant pathology in numerous projects and provided on-site management for those projects.  Moreover, he carried out independent research and extension projects that he knew would benefit growers throughout the state and region.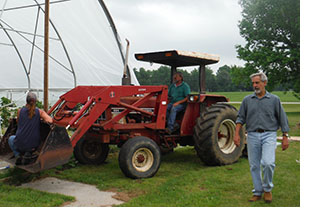 Since 2010, Jeff's work at DSAC focused primarily, but not exclusively, on protected agriculture, including both small fruits and vegetables in high-tunnel and greenhouse production systems.  High-tunnel research began in 2008 with DSAC staff cooperating with an area producer. The first two high tunnels were constructed at DSAC in 2010, with a third added in 2014.  In just a few years, Jeff's work produced cultivar evaluations and recommendations for high-tunnel production of tomatoes, peppers, raspberries, salad greens, and strawberries.  Jeff evaluated and demonstrated the use of a portable steamer to pasteurize soil for insect, weed, and disease suppression, a practice that can benefit conventional and organic growers alike.  His evaluations of various hydroponic systems for strawberries, tomatoes, greens, and other crops were the topics of many Extension presentations to growers in Illinois and nearby states.  Most recently, Jeff began assessments of the economic viability of low-technology mushroom production using various structures, including high tunnels, and efforts to identify superior cultivars of oyster and Agaricus mushrooms and the best substrates for their production.
Jeff Kindhart led numerous educational/extension activities, both on and off site. These included annual field day events at DSAC, regional twilight meetings, regional growers' schools, the Illinois Specialty Growers Association statewide meeting, and invited presentations at conferences in Missouri and Kentucky.  He was always sought after by attendees at these programs because his knowledge and his recommendations helped them to be successful and profitable.  He was an essential part of University of Illinois Extension's statewide and southern IL fruit and vegetable programs.  From 2012 through 2015, DSAC was one of three sites for the U of I's USDA-funded program, Preparing a New Generation of Illinois Fruit and Vegetable Farmers, a program that helped over 250 potential new fruit and vegetable growers plan and initiate new small farms.  Jeff developed several of the training modules for this program, led the field portion of all sessions held at DSAC, and taught multiple topics at DSAC, Urbana, and St. Charles.  He was undeniably the single most important contributor to this program.
On January 7, 2016, at the Illinois Specialty Crops, Agritourism, and Organics Conference, Jeff received the Illinois Specialty Growers Association Award of Excellence for his many outstanding contributions to specialty crop production in Illinois.  A day earlier Jeff had addressed a packed crowd in a small fruit workshop to provide updates and recommendations on hydroponic production of strawberries in a vertical stacking system in high tunnels.  It would be his final public presentation.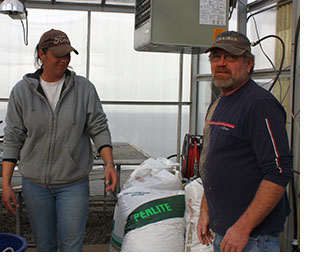 In all of his research and extension work, Jeff was dedicated to the idea that scientific evaluations of new (and old) methods of fruit and vegetable production provide information that improves yields, efficiencies, and profits for growers.  He understood that assessing and teaching new approaches helped improve the lives of small farmers and local consumers alike.  He was knowledgeable about a broad range of horticultural challenges and practices, always genuine, frequently passionate, and never shy about "telling it like it is." 
Those of us who knew him well lost a treasured co-worker and friend.  All who knew him will miss his wit and his smile.  Even those who have never met him will miss the contributions he would have continued to make.
Rick Weinzierl (217-244-2126; weinzier@illinois.edu)
To share your stories, thoughts, condolences, please visit the New Illinois Farmer's Facebook Page.